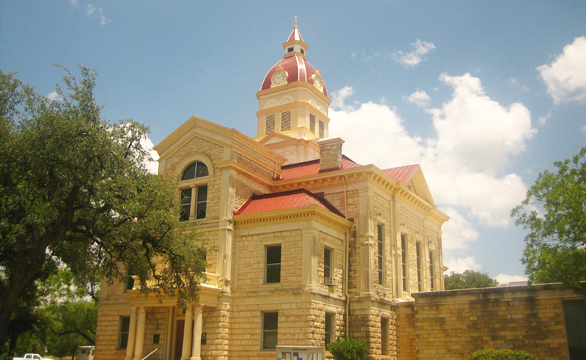 New Ideas & Conservative Leadership
For Bandera County
"We have opportunities and challenges facing Bandera County, and we absolutely cannot address the speed of tomorrow at yesterday's pace. After a successful 25-year career in the Army, retiring as a Colonel, I spent 10 years as a Director in the defense industry, and the last 8 years as a volunteer leader in this community. Over that time, I have built a record of creating positive impacts on people's lives in a variety of areas.
Working with citizens from all areas of Bandera County, we'll do solid planning for the County's future, advocate for smart economic growth, support our Law Enforcement, and make education a priority. I am asking for your vote on March 1st for a capable, committed, trustworthy leader who cares for your family and bright future for Bandera County." - Col. (R) Susan Junker
2022 REPUBLICAN PRIMARY
Texas Primary Day |
March 1, 2022
Early Voting |
February 14, 2022
The RIGHT CHOICE for Bandera County
To be an effective rural County Judge, a candidate must show that they can meet the requirements of the job, and deliver on the expectations of the public. Over the past 45 years, Susan Junker has cultivated the skills to serve, and put them to work.
#1 - Capability
A County Judge must meet the basic knowledge, skills, and qualifications to do the job. Susan has proven her capability in her lifetime of leadership in the Army, in business, and in our community. Susan has managed inventories, programs, and projects worth over $200 million simultaneously, approximately 10 times the size of the Bandera County annual budget of $22 million. She has proven both in and out of uniform that she can manage complex management challenges.
#2 - Commitment
A Texas County Judge is on call 24/7 for emergency management, law enforcement, safety, disasters, public health. The US Military is not a 9-5 occupation, and Susan has a long record of investing time and attention when and where it's needed.
Susan is also committed to conservative values. Her oath to the United States Constitution and the freedoms contained therein is unchanged since her first day in the US Army. She works to conserve the best of the past and applying hard-fought lessons to the future.
She believes in accountability, personal freedom, limited government that is close to the people, a strong national defense, quality public education, limited taxes and balanced budgets, conserving the environment, encouraging capitalism, and American leadership in the world.
#3 –Character & Ethics: Never Compromised
A county leader should have uncompromising moral standards, moral strength, mental toughness, and agility. As shown by ice storms and pandemics, a leader must be able to adapt and succeed. Susan believes in decision-making that is above-board, transparent, and accountable to the people. There is no time or room for egos to get in the way of serving others.
#4– Communication
In the information age, government should utilize all technology available to communicate with county citizens, both honestly, and often. Susan has proven herself as a strong communicator and connector. With dozens of groups inside and outside of Bandera County that make up our quality of life, a leader should always be coordinating with others in good faith. The public should expect and deserves no less.
Each of these are important to strong service to the citizens of this county, but the last has to be there to make the other 4 work:
#5 - Caring
Citizens deserve leadership that will take on hard challenges, find common ground, and serve all constituents. Susan has shown for decades her genuine care and concern for those she serves, and will continue that as your next Bandera County Judge.
Qualifications & Experience
Col. Junker has proven her leadership and management abilities over a 40 year record of service to our nation and Bandera County community. She's committed her entire adult life to the defense of freedom, her sworn duty to the Constitution, and smart leadership with a serving heart.
Experience & Education
M.S. in National Resource Strategy,
National Defense University, Washington, DC
M.S. in Logistics Management, Florida Institute of Technology, Melbourne, FL
B.A. in Political Science, University of Illinois, Champaign-Urbana, IL
Strategic Thinking for Leaders (Carnegie Mellon)
Program Management Institute (Carnegie Mellon)
Program for Executives in Logistics and Technology, University of North Carolina, Chapel Hill, NC
Community Involvement
Bandera County Republican Women: VP
American Legion: Commander
Bandera County Historical Commission
Hill Country Veterans Council: Advisor
San Antonio Defense Gang: Fisher House
Order of the Eastern Star: Officer
Jr. Livestock Show and Sale: Volunteer

United States Army, Colonel (Ret.)
Nearly 25 years in active duty

Deputy Executive Director, Readiness and Customer Support

Special Assistant to the Commander (4-Star) /Senior Army Logistician

Chief Operating Officer (Commander), 702d Main Support Battalion

Executive Officer // Deputy Division Logistician (G-4) // Chief, Materiel Management Center

Exemplary Service Record in Professionalism and Conduct

Public Affairs / Speechwriter / Senior Advisor to Commanders (3&4-Star)

Thirty years experience in leading staff, P & L and military teams

Led successful, safe logistics organizations, including a 1100 person logistics unit providing supply, maintenance, medical, distribution and services to 20,000 personnel.

Operated and maintained over $100M in property and over $50 million in inventory and a $1.6M budget to meet readiness goals.
Defense Industry Service
Over 15 years Government and industry management consulting experience

Multi-Project Manager for Lockheed-Martin Aerospace

Led Defense Logistics Agency initiative at Lockheed Martin from a baseline $74M to a $5.6B contract in 3 years

Successful business development leader in 4 successful start-ups: APL Logistics, Booz Allen, and 2 in Lockheed Martin to include establishing new customer, contracting and partner relationships.

20+ years in communication products for and with Senior Executives; Congress, competitors and partners; proposal leadership/writing on winning bids; Completed over 225 presentations in 18 months

Leader Assessment and Development Institute (Lockheed Martin)

Senior Leadership Development Program (Lockheed Martin)

Financial Strategies for Executives (Lockheed Martin)
What Matters to YOU?
Susan believes in transparency and citizen input, and would love to hear about the issues that matter most to you and your family!
We will keep your responses confidential and never share your email address.
Connect With Our Campaign
Join us on social media and get the latest!